Are you ready to join Legendary Marketer? Then you might be wondering how much it costs.
That's a good question, because there's no single fix price to join Legendary Marketer.
What you pay depends on what product you end up purchasing first to get in.
So in this Legendary Marketing pricing article, I'm going to explain the cost for all the current products that Legendary offers and give you the low down on the deals they are currently offering.
Here's what I'm going to be covering.
For more details on the program, make sure to check out my Legendary Marketer review.  And if you're already ready to buy, don't miss out on my Legendary Marketer Bonuses as well.
---
How Legendary Marketer Pricing Works
Keep in mind that Legendary Marketer recently updated the pricing structure of all its products. This post reflects their most updated pricing.
If you visit the website, you can see all the different front-end offers for Legendary Marketer.
Here they are:
15-Day Online Business Builder Challenge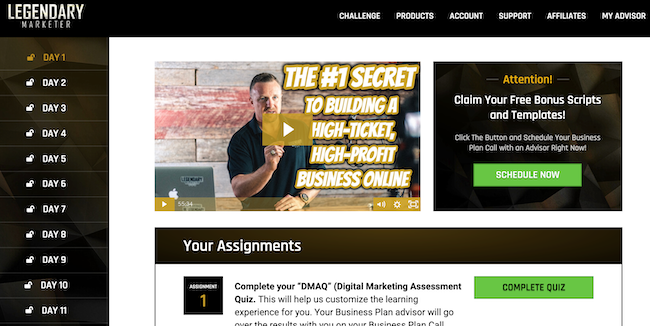 Over the 15 days of the challenge, you'll get video lessons that will teach you how to launch and grow your own online business.
What makes Legendary unique from other courses, is that as part of the challenge, you'll need to talk to your business coach who will map out a personalized business plan for you.
The 15 Day Online Business Builder Challenge will cost you just $7 to join. While it used to be free I like how they've started a small fee just to get rid of the freebie seekers.
I highly recommended signing up for it to get a taste of what Legendary Marketer's training is all about. You'll also get access to it as a bonus to every other Legendary Product.
Take the Legendary 15-Day Challenge
15 Second Free Leads
Do you know how all the top Legendary affiliates are crushing it with Legendary right now?  It's with Tik Tok.
Tik Tok is hands down the fastest way to start sending lots of traffic to your offers.  TikTok videos are easy to create (15 to 60 seconds long) and even newbies to the platform can start seeing results really fast.
Legendary's 15 Second Free Leads course is my recommended training to start learning how to use Tik Tok.  It's an easy to consume video course that was put together with four of Legendary's affiliates.
And it will teach you everything you need to start publishing Tik Tok videos the right way.  Oh, and you can grab it for just $0.99 which makes it the perfect entry point into the Legendary ecosystem.
Legendary Marketer eBook (The Insiders Guide to Affiliate Marketing)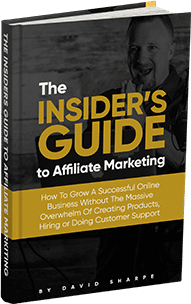 There used to be an actual physical book, written by David Sharpe that was a FREE + shipping offer.  However, it became outdated after a while, and it's been replaced by this ebook.
This 92-page ebook is an awesome resource for affiliate marketing beginners.  The first part of the book teaches you the fundamentals of affiliate marketing, and the second part goes into David's "Affiliate Domination Formula".
Best of all, it will only cost you $1.99 to purchase, and you will get free access to the 15-Day Business Builder Challenge as well.
Get the Legendary Marketer Book
Copywriter's Playbook
As a marketer, copywriting is one of the top skills that you need to master.  Get better at copy and you will see your conversions (and sales) increase dramatically.
That's why I can't recommend, the Copywriter's Playbook enough.  It's an excellent 8 module video course by Legendary CMO Matt Heltzel that shows you his proven framework for writing great copy.
I actually bought this course when it first came out for $47, and it was well worth it.  But they eventually turned the product into one of Legendary's front-end offers and started selling it for just $0.99!
Legendary Marketers Club
Marketers Club is kind of like the Netflix of online marketing training. Currently, there are 18 different training modules. Some of these modules are interviews with people like Kevin Harrington (of Shark Tank fame), Mark Harbert, and Nathan Lucas (#1 Legendary Affiliate).
In addition, there are more specific trainings on Youtube, using Stories to sell, and How to Sell more stuff online.
Plus, you will also get access to all the Live Training Replays that Legendary Marketer does every week. This means new content is always be added to the Marketer's Club library every week.
What's the cost of all this training? A very reasonable $30 a month.
Join the Legendary Marketer's Club
The Traffic University Bundle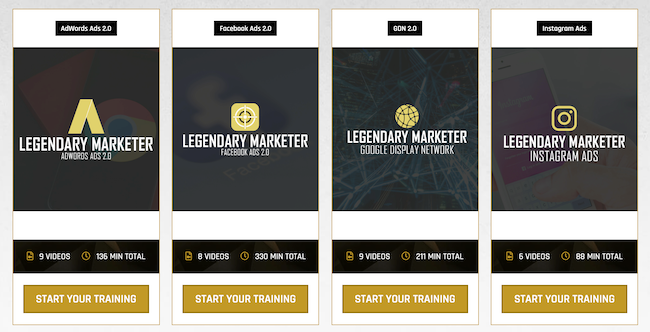 This consists of 8 comprehensive video modules covering different paid advertising traffic strategies. The modules cover:
Adwords
Facebook Ads
Google Display Network
Instagram Ads
Landing Pages
Native Ads
Youtube Ads
LinkedIn Ads
Twitter Ads
Purchasing the Traffic University will cost you a one-time fee of $1,497.
Here's a tip for you if you want access to this, but save some money in the process.  This course is actually licensed from Justin Brooke's Adskills program.
He's also licensed the same program to ClickFunnels, and if you sign up with them, you can find these same trainings inside their Funnel Flix program.
Business Blueprint Starter
Finally, Legendary offers 4 different business blueprints you can purchase.
They are:
Affiliate Marketing Business Blueprint
Digital Products Business Blueprint
Coaching and Consulting Business Blueprint
Events and Masterminds Business Blueprint
Each of these blueprints takes a deep dive into their respective topics. And they are all priced at $2,500 each.
However, if you go through the Business Blueprint Starter offer that's presented to you on Day 5 of the 15-Day Challenge, you can grab the whole bundle for just $2,500.
You'll also get some other goodies as well include the Decade in a Day live workshop and live access to the weekly webinars that they do.
How the Legendary Marketer Affiliate Program Pricing Works
The Legendary Marketer affiliate program is different from other affiliate programs in 2 notable ways.
First, you have to apply to the affiliate program after completing the 15 Day Challenge.
And you're not guaranteed to be selected.
Second, you can choose to be a Basic affiliate which is free or a Pro affiliate which costs $29.95 a month.
The main difference is that you'll get a higher commission rate of 20-60% with Pro versus 5-30% with Basic.
Are there any Legendary Marketer Discounts?
If you're going to be all in on Legendary Marketer, then there are some special deals that can help you save some money.
First, if you purchase the Legendary Marketer's Club ($30/mo), you will be presented an upsell to purchase yearly access for $179. This is perfect for anyone seeing themselves staying with Legendary long term (more than 5 months). If that's something you're planning to do, then this can save you a lot of money over time.
The second deal that Legendary offers is their Business Blueprint bundle. As part of the 15-day Challenge, you will be asked to watch a webinar on Day 5 which presents their Business Blueprint offer. Essentially for $2,500 you can get all 4 of the blueprints + Decade in a Day Live Training.
Not only that, but the Business Blueprint bundle also gives you immediate access to the Legendary affiliate program. Since not everyone gets accepted, this is a shortcut to getting yourself in.
Get even more value with my Legendary Marketer Bonuses
Now that you understand how the Legendary Marketing pricing structure works, you will be able to pick the right product to start your journey with Legendary.
But before you do so, why not check out the Legendary Bonuses I am offering.
You'll receive them with 24 hours of purchasing any paid Legendary product.
Here is what you will get:
Bonus #1: 60 Days Mentoring Over FB Messenger ($1,500 value) – Got a question? Stuck with an issue? No problem. I help all my affiliates by providing one on one mentoring over FB Messenger and I will make sure you succeed with promoting Legendary Marketer as an affiliate.
Bonus #2: Membership to my secret Legendary Case Study Group (Priceless) – Inside, you will get a fully transparent look at how I'm promoting Legendary Marketer. I'm sharing all the content I publish, SEO strategies I'm using to rank them, and insights into all my stats.
Bonus #3: Access to my Ultimate Legendary Marketer Followup System ($997 value) – How do you ensure that you're earning the maximum affiliate commissions from all your Legendary affiliates? Easy…by following up with all your leads and members when they sign up under you. This system includes my entire Legendary email swipe file plus the automations I use to target each of your leads based on where they are in the Legendary value ladder.
To qualify for my bonuses just purchase ANY Legendary Product using my affiliate link.  This includes the Legendary ebook, Copywriter's Playbook, or 15 Second Free Leads.