Every single year Google changes its algorithm, and every single year marketers are left scrambling to figure out how best to stay on top.
One day you're the number one result, the next you can find yourself hidden somewhere in the backwoods of page 13.
Search Engine Optimization (SEO) as a marketing channel is one that is constantly evolving, innovating, and changing.
SEMRush Review
First Published on: June 2, 2018
Last updated: June 2, 2018
tl;dr Summary
SEMRush is a great tool for people who want more data to take their SEO and SEM efforts to the next level.
Just when you think you've got a handle on it you'll find yourself with the rug pulled out from under you.
Like how a gunslinger in the Old West needs a trusty revolver, you need yourself an ol' reliable as well.
A tool that's stood the test of time and you know you can trust to deliver you the results no matter how unforgiving the SEO landscape may be.
You need yourself something like SEMRush.
Currently, SEMRush is used by over 2.5 million users around the world as their go-to tool for SEO.  For over 9 years, SEMRush has provided marketers with the data they need to keep themselves ahead in the constantly changing world of SEO.
In case you're still unconvinced, in this SEMRush review, we'll be taking a deep dive to see if this is the right tool for you.
What is SEMRush?
What is abundantly clear with SEMRush is that it is not a one-use tool. It can handle a wide variety of tasks for anyone doing SEO.
Taking a quick look at their website SEMRush boasts an impressive array of features such as:
Keyword research and tracking
Onsite SEO checker
Social Media Tracker
Schedule and manage social media posts
Daily reports on traffic source and flow
Paid keyword advertising research and data
Competitor keyword and advertising analysis
Brand monitoring
Backlink auditing
Domain comparison
& much more!
As I'm sure you can already tell from the above list SEMRush is definitely not for the faint of heart. It's mainly for experienced marketers, particularly those who have at least some understanding and background in SEO. The quickest way to tell if SEMRush is right for you depends on whether or not you'll actually be taking full advantage of all of its features.
If you're the type of person who just needs one or two of the features SEMRush provides then you might be probably better off using a different tool depending on what your goals are.
After all, you wouldn't buy a Mustang if all you're planning on doing with it is diving to the mall and back. However, if you can see yourself riding down the highway at top speed with the top down then SEMRush is for you.
Without further ado, let's take a look under the hood and see if SEMRush really is greater than the sum of its parts.
What Keywords Does My Site Rank For?
Back in October of 2011, Google stopped provided what keywords were sending traffic to your site.   So whether you use Google Analytics or Clicky you were losing valuable information you could be using to grow your site.
One of my favorite features of SEMRush is that you can now see what keywords your site is ranking for.
Just head on over to the Organic Research section of the app and type in your domain name and you will see the keywords that your site ranks for, what position they are in the SERPS and other valuable info like search volume, the specific URL that is ranking for that keyword and more.
If your site ranks for a lot of keywords, you can use SEMRush's filters to drill down and find your most valuable keywords.
For example, one thing I like to do is find the keywords that I rank for which get over 900 searches and are in positions 5 and 15 in the SERPs.
These are keywords that are on the cusp of sending me big traffic, and I can improve my positions by updating my content or doing some additional link building.
And you don't have to limit this to your own site.  You can follow this strategy with your competitor's sites as well to unlock valuable keywords you should be targeting.
SEMRush Keyword Research
SEMRush also supports traditional keyword research as well.
All you have to do is type in your target phrase and it'll pull up a whole bunch of useful stats such as the search volume, related keywords, and what the current search results are in your Keyword Analytics dashboard.
What really stands out is the user experience of the dashboard and how all the information is presented to you in a neat and easy-to-understand way. SEMRush understands their audience of experienced marketers and know neatly present exactly the kind of information they're looking for.
Users are able to get more granular with their data and sort by different countries, the type of device used, and the paid ad history of that keyword. This can incredibly useful in helping you understand who your competition is and if their is a gap in the market you can take advantage of.
As a blogger who's constantly on the lookout for new topics to write I'm personally a big fan of SEMRush's new Keyword Magic feature. What I enjoy about this feature is that it will show me what related keywords I can also target, and all keywords will be sorted into groups by their search topic.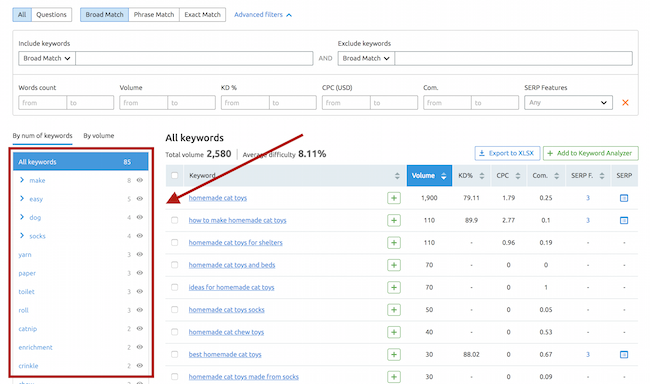 I can even take this further by inputting extra filters to my search such as the number of words I'm aiming for in my keyword, and my preferred search volume. This way I can drill down even deeper to find what long tail keywords I can be targeting, and what other keywords I should be mentioning within my article to make sure that it is as optimized as possible.
SEMRush for Onsite Optimization
The next big test for SEMRush is to see how helpful it can be in optimizing your own website. While you can theoretically pay a consultant to do this for you, I am a big believer in bootstrapping wherever you can.
However, I'll be the first to admit that when it comes to things like analyzing data and crunching number most of that stuff flies over my head.
This is why it's so important to have an SEO tool that can give me all the information I need in an easy and clear-to-understand way.
Which brings me to SEMRush's Site Audit tool.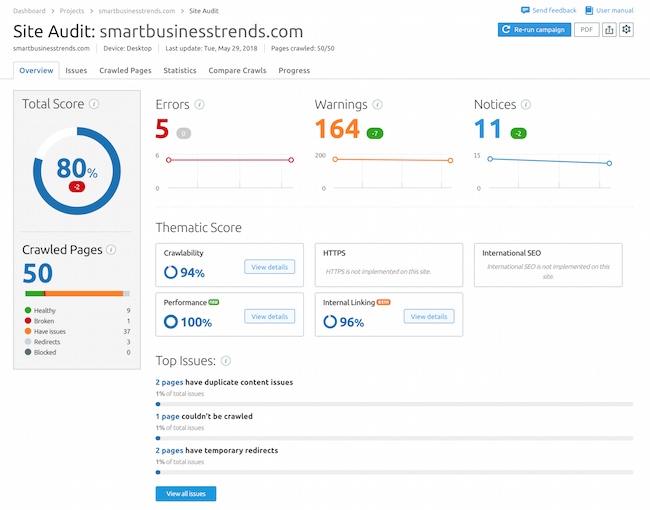 Using Smart Business Trends as an example we can see how SEMRush does not provide as much data on their dashboard in comparison to something like Moz.
While this can be disappointing for those who were looking for more in-depth results, don't worry, I'll get to that in a bit, I personally favor this stripped down display of results.
For me, this is all the essential information I would need to get started on optimizing my website without all the fluff. Giving me an idea of the overall health of my website, and which areas I can immediately fix to start improving my site's search ranking. 

To get an even more detailed view of your onsite SEO you can take out the On Page SEO Checker for a spin, particularly their Optimization Ideas tab.
This is what, in my opinion, really makes SEMRush stand head and shoulders above the rest. The SEO Ideas tool will present you actionable suggestions that you can do to immediately improve your SEO such as if you should increase or decrease your keyword density in comparison to your competitors for example.
As I mentioned earlier, as someone who has trouble wrapping their heads around mountains of data, I find it really useful that SEO optimization is broken down so easily for someone like me.
SEMRush for Competitor Research
No business exists in a vacuum. It doesn't matter if you're starting a blog, looking to create an eCommerce site, or have an entirely new product it is simply inevitable that you'll come up against some competition at one point or another.
In order to keep ahead of your competition, it helps to know how what they're up to.
To do this you need to jump into the Domain Analytics dashboard and enter in your domain name.
Using Foundr as an example, not only can I use SEMRush to see who their biggest competitors are, both large and small, I'm also able to analyze what they share in common in terms of keywords, search volume, and even traffic behavior.

While this should theoretically be enough for you to start creating a strategy to outrank your competitors. You can take it a step further by seeing how your competitors are doing in terms of their own SEO efforts and get a sneak peek at what's going on with their website behind-the-scenes.
The easiest way to start finding opportunities to rank higher than your competitors is to use the Domain vs. Domain tool, specifically the Gap Analysis feature.
You'll be able to pull up a list of common keywords shared between your site and a competitor's and where you're each ranking on the same keyword.
From there you'll want to do some quick investigation and see why your competitors are ranking in particular keywords, or if there are valuable keywords that they aren't ranking highly for that you can immediately take advantage of.
For example, I can see that with the keyword side hustle I can tell that Foundr is ranking much lower than Business Insider, but that Business Insider isn't ranking highly on any of the associated keywords either.
From these immediate results alone I can already tell that this is a relatively high-volume keyword, and it has a relatively low CPC, meaning that there is a big opportunity for Foundr to start ranking higher for these specific keywords.
With one click I can take an even deeper dive into analyzing that specific keyword and find even more data that can help Foundr further exploit this opportunity.
SEMRush for Link Building
It's no secret that one of the most tried and true strategies to increasing your SEO is through link building.
In case you're not familiar with the method, link building is when you manage to have other websites link back to your own. This improves your SEO ranking because of the way Google's algorithm works.
One of the main ways search engines ensure that only the most authoritative pieces of content have a higher ranking is by crawling the web to see how many other websites are linking to the same site. Basically, the more links from high-quality sites you have the better your chances are for ranking higher.
The problem is that link building is very time-consuming and, often, difficult to do properly.
Let's see how good SEMRush is at helping you with your own link building strategy.
The first test is to see how well SEMRush can help you track down backlinks and referring domains from your competitors. Using their Backlink Analysis tool all you have to do is type in the URL you want to check and it'll scour through its database to see how many other websites are linking back to it.
Here's an example from a Foundr article
Already this is helpful in a variety of ways. For one, you can analyze whether or not you need to improve your link building strategy in the first place, and secondly, you can see where your competitors are getting their links form.
You can even take it a step further and compare your domain against a competitors to see how you both stack up in terms of link building.
I particularly like the function where you can sort where your competitors are receiving their backlinks from by their recency. This way you see where your competitors are focusing their own link building efforts, and where they've recently lost links and to whom.
For example, if you can see that your competitor has a number of backlinks from a high-authority site, you can see if you can do a guest post on that site as well. If your competitors has a bunch of backlinks from forums, then you can look into engaging similar communities as well to achieve the same results.
Another way to get a sneak peek on what your competitors are up to is to see which specific pages are driving them the most traffic. By checking out the "Indexed Pages" tab you can see what their best link building assets are.
You can even do this on your own domain so you can get an idea of what type of content is getting the most traction amongst your audience, which can help you further optimize the type of content you publish.
All in all, SEMRush provides an excellent tool for helping marketers uncover opportunities for link building.
SEMRush Extras
Already the above features are enough to solidify SEMRush as one of the top dogs in the industry.
But beyond these SEO essentials SEMRush also boasts a number of extra features as well, so let's see if these bells and whistles are just that, or if they're actually practical tools you should be taking advantage of.
Social Media Poster
A relatively new feature, it was only late last year that SEMRush gave their their social media capabilities a complete makeover. Marking their latest foray into building a complete tool for marketers instead of focusing purely on SEO.
At first glance, their social media poster is streamlined and it's relatively easy to schedule and queue up new posts.
Although the major downside to this is that unlike other tools, such as Buffer or MeetEdgar, whose main focus is social media scheduling. You are limited to creating a new post one at a time instead of being able to upload or edit a whole batch of posts at once.
Also, you're unable to group or tag posts which can make it difficult in helping you track and analyze your social media performance.
Social Media Tracker
Up next is SEMRush's Social Media Tracker tool which is supposed to help you track competitors, identify top performing content, and analyze your social media performance.
Once you connect your accounts you'll be taken to an overview of each channel's performance.
It'll provide you with information like your audience size, the engagement rate, and how much activity each channel is receiving. So far nothing special as any other social media scheduling tool can do the same.
Also, frustratingly, SEMRush only pulls up the metrics for your entire channel and not a specific post or detailed metrics.
While you are able to change the date range, and even view what your highest performing posts are, I would consider this a serious flaw for any social media analytics platform.
Where SEMRush shines though is its ability to compare your social media channels against your competitors.
What I do like about the social media tracker is that I can compare my highest performing posts against competitors and see how they stack up against each other.
Through this, I can also see what's working for my competitors and possibly adapt and improve upon their formula as well.
Brand Monitoring
These days the art of digital marketing is more about brand management over anything else.
As important as it is to say the right things at the right time, it's just as important to know what people are saying about you when you're not a part of the conversation.
Whether it's your customers, the press, or even your competitors, you need to be able to track and monitor what's being said about your brand.
At its core, SEMRush's Brand Monitoring tool is remarkably similar to Buzzsumo, in how it crawls through its massive database to locate any mentions to your keywords.
As you can see the dashboard is simple and pulls up any mention, from social media posts to blog articles, of your keywords. My only caveat with tool though is that it's unable to pull mentions from forums such as Quora.
This can give you an advantage in a number of ways. From being able to check whether or not your marketing messages are getting through, if there are potential fires that can be put out, and what people are really thinking about your product.
All of this is vital information in helping you keep on top of the market.
SEMRush Pricing
SEMRush is relatively expensive with their cheapest plan coming in at $99.95 a month.   However, this is comparable to their competitors in this space like Ahrefs.
The main difference between the price points offered is that with their Guru and Business plan you'll be able to generate more reports, and receive access to their historical data. Unless you're a SEO specialist their Pro plan should be more than enough for most marketer's needs.

If you're the type of person who's looking to do a deep dive with SEO and do everything from link building, to onsite optimization, and everything in between then I feel SEMRush will definitely be worth it to you.
It really just comes down to how often you are planning to use it.  If you just need it for a little bit, then just subscribe for one month and get all your research done in that time.
I personally feel it's a great tool to have in your toolbox.  I'm constantly using it to discover the long hanging fruit keywords I'm ranking for that I can do some optimizations and get more traffic to my site.  For that, SEMRush is extremely valuable.
Final Thoughts
I'm the kind of person that likes tools that can instantly deliver me reliable results without any fluff.
Which is why SEMRush is perfect for me and I think you'll get a ton of value from the product as well.
SEMRush offers everything you will need to build a winning SEO strategy, and their extra features mean you can cut loose other tools that might be cutting into your bottom line.
Give it a try and let us know how it works for you.
Get the competitive edge with SEMRush Today
SEMRush Pros
A wide variety of tools to help with your SEO and SEM efforts
Find out which keywords your site and your competitors are ranking for
Excellent customer support and knowledge support
SEMRush Cons
High learning curve
Relatively steep monthly fee
Limited access to historical data (only 90 days) with their Pro plan
Limited number of users you can add to a plan