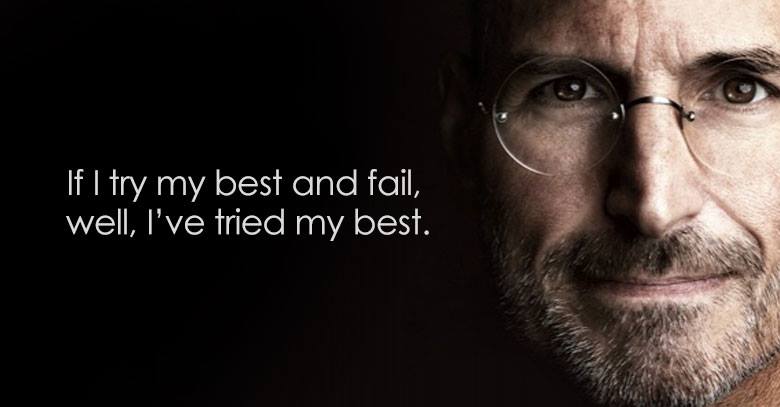 "If I try my best and fail, well, I've tried my best." – Steve Jobs
This one's from 1998, and one of Jobs's best quotes!
It teaches us about the importance of trying hard, and trying multiple times. History – and indeed Jobs's own life – tells us that success cannot be achieved without failing first. Failure is one of the keys to success. The question is that are you willing to fail again and again in order to be successful?
The full quote is as follows:
One of my role models is Bob Dylan. As I grew up, I learned the lyrics to all his songs and watched him never stand still. If you look at the artists, if they get really good, it always occurs to them at some point that they can do this one thing for the rest of their lives, and they can be really successful to the outside world but not really be successful to themselves. That's the moment that an artist really decides who he or she is. If they keep on risking failure, they're still artists. Dylan and Picasso were always risking failure. This Apple thing is that way for me. I don't want to fail, of course. But even though I didn't know how bad things really were, I still had a lot to think about before I said yes. I had to consider the implications for Pixar, for my family, for my reputation. I decided that I didn't really care, because this is what I want to do. If I try my best and fail, well, I've tried my best.
– Steve Jobs, CNN Money/Fortune
November 9, 1998