For a long time, the only email service providers that provided automation capabilities were hugely expensive products like InfusionSoft and Ontraport. This put the power that automation out of the reach of many small businesses and entrepreneurs.
Why is email automation so critical?
ActiveCampaign Review
Last updated: Dec 26, 2019
First Published on: Feb 16, 2015
Product rating: 4.8 / 5.0
tl;dr Summary
ActiveCampaign is an affordable email service provider that also includes some impressive email marketing automation features. This makes it one of the best choices for power email marketers.
By automating your email workflow, you can unlock the true potential of your email list.
It will help you turn your leads into customers. It will make your subscribers more engaged. And if you set it up right, all this will happen with a minimum amount of intervention on your part.
Fortunately for us, the landscape for email automation is has changed for the better.
For example, ConvertKit and GetResponse are both affordable autoresponders that offer automation capabilities.
And today, I'm going to review ActiveCampaign, which offers some even more automations capabilities than the two above. It's also more affordable than Infusionsoft and it has become the autoresponder of choice for some very smart marketers that I respect.
It's also the email service I use on this site, and I recommend it to any business looking to improve their email marketing.
Here's what I'm going to cover in this ActiveCampaign review:
If you're already ready to buy, skip to the end of this review and grab my ActiveCampaign Bonus Package.
---
What is ActiveCampaign?
ActiveCampaign is not just your standard email service provider. It's a complete email marketing automation and CRM platform.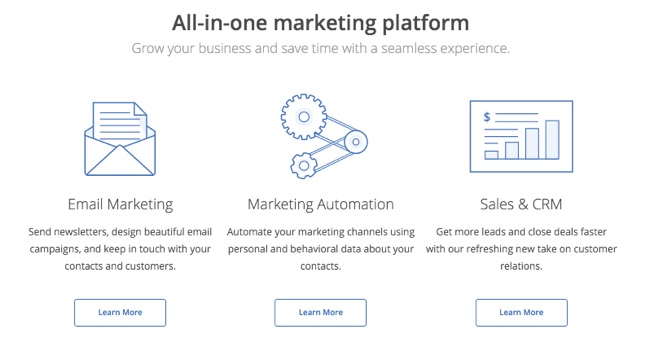 If you have used Aweber for example, you will be familiar with core features like sending broadcast emails (called campaigns) and creating web forms. What ActiveCampaign's CRM features give you (Plus plan only) is greater control over your contacts than you are probably used to.
But where ActiveCampaign really stands out are its impressive automation features. It includes a powerful visual automation editor that allows you to build some amazing email workflows that few other email service providers can match.
ActiveCampaign has the concepts of tags, which you will be using frequently to segment your lists. Email segmenting is super important because it allows you to send highly targeted emails. The more focused your emails are, the more responsive your subscribers will be.
Think of tags as attributes that you define for the people on your list. You could have tags for particular interests like 'email marketing', 'SEO' etc. Or you could create tags for 'buyers' and 'non-buyers'. It's up to you to decide what kind of tags to use.
What are the best parts of ActiveCampaign?
Best Part #1: Build Any Email Automation You Can Think Of
ActiveCampaign has one of the most flexible visual automation builders out there.
First, it supports a wide variety of triggers to start your automations. So you'll be able to use common triggers like joining a list or tag getting added, but more advanced ones like starting an automation when a subscriber visits a certain page on your site.
It also allows you to perform a wide variety of actions based. Not only can you do standard actions like sending emails, waiting, updating tags and custom fields, but you could also send SMS, post to a webhook and other advanced actions as well. My one disappointment I had is that you have to upgrade to a Plus account to be able to add subscribers automatically to a custom audience.
For maximum reusability, you can even have automations go into other automations.
Basically any email automation you can brainstorm can be created with the automation builder.
While not quite as nice as ConvertKit's automation workflow editor, it is still pretty straightforward to use. You can also split test automations which lets you improve each step of your automation workflow.
Best Part #2: You Can Share Your Automations
Is there an automation that you are trying to build? Chances are that someone may have built one already that you can directly import into your account. Or maybe you just want to share automations that you've built yourself with others. ActiveCampaign lets you do this and it's a really nice feature.
On the automations page, if you click the dropdown arrow next to the automation there's a 'Share' menu item. Select this, you will get a unique share URL that you can give to someone else and it will import it into their account.
Personally, I've had success creating automations that can be packaged up as part of a lead magnet. This converts really well. Or you can even sell a set of automations like CF Follow Up Pro does. There's a lot of intriguing opportunities you can do with this as a creative marketer.
Best Part #3: It Scales Nicely With Your Business
If you're just starting out with email marketing, then ActiveCampaign's Lite plan will be able to accommodate your needs. It strikes a nice balance between functionality and affordability. Most common automations workflows can be built using this plan, and pricing is comparable to less powerful alternatives like Aweber and MailChimp.
But if you are a larger business and want an InfusionSoft like alternative that includes more powerful capabilities like a CRM or sales pipeline, then ActiveCampaign can handle this too with their more expensive plans. So there really is something for everyone.
Best Part #4: It Has A Great Affiliate Program
ActiveCampaign has a standard 30% lifetime recurring commission program found with other email services. But there are a couple of reasons that make it stand out from other similar affiliate programs.
First, the fact that you can share automations gives you a great selling point for someone to try ActiveCampaign using your affiliate link. It allows you to provide incredible value and create a win-win for you and your referrals.
The second reason why I love promoting ActiveCampaign as an affiliate is that it has these more expensive plans that cater to bigger businesses. This means that you can earn some really big commissions from just a few referrals.
It's not unheard of, to earn $1,000 per month in recurring affiliate commissions from a single referral!
Best Part #5: You Can Resend Your Campaigns
Another cool feature I like is the ability to resend your campaigns.
Let's say you have a campaign that really worked well. However in the 3 months, since you sent it out, you may have added another thousand new subscribers to your list.
Well, you now have the option to resend this campaign again, to just the new contacts that have joined since your original broadcast. Your contacts who saw your campaign already will not receive it again.
ActiveCampaign also gives you the ability to send broadcast emails to contacts who did not open your original email blast. The trick here is to resend your campaign but use a different subject line. Since they didn't open your email in the first place, they never saw the content and you can keep it the same.
There are many legitimate reasons why someone may not have opened your email previously, and this resend option gives you the ability to extend your reach by targeting these people.
What I don't like about ActiveCampaign
Bad Part #1: It's not as easy to do affiliate marketing with it
If you're planning to use ActiveCampaign for any affiliate marketing purposes, you have to think more strategically if you decide to go with them. They have a pretty strict policy about overly promotional emails that directly link to affiliate products.
So I would stay away with ActiveCampaign in general if you do any solo ads and/or plan to promote WarriorPlus, JVZoo, and ClickBank type offers.
However, when people say you can't do affiliate marketing with ActiveCampaign, that's not true!
Direct linking to affiliate offers is really the lazy man's way of doing affiliate marketing and I don't recommend taking that approach anyway.
What you can do instead is promote affiliate offers indirectly.  Use a more story-based approach to your emails, and promote your affiliate products indirectly via bridge pages, Youtube videos or blog posts. I've done this, and it works perfectly fine.
Bad Part #2: Higher Learning Curve
ActiveCampaign is jammed packed full of features. So learning all these features will definitely require a bit of a learning curve. Fortunately, it does have a well-documented knowledge base, so if you're willing to browse through the documentation, it will help you get up to speed faster.
The live chat feature is also quite helpful, and I found their support technicians to be very knowledgeable when it comes to explaining technical questions I had about building my automations.
A look inside my ActiveCampaign account
Dashboard
When you first login, you'll start at the dashboard which gives you a birds-eye view of your ActiveCampaign account. It consists of different widgets, which you can customize and move around as you like.
The first widget you will notice displays all the contacts you have in your account. It can be toggled to see your active contacts, which is the number of people who actually open your emails and haven't unsubscribed.
One nice thing about ActiveCampaign is that your unsubscribed contacts don't count against towards your paid subscriber limit. Many other email service providers charge you for unsubscribes, which I've always found annoying.
For quick navigation, you can also see links to your most recent campaigns and most recent automations.
The Top Contacts widget is also quite interesting. You can see the contacts that have been interacting the most with your email marketing. These are usually your best customers or hot prospects and you might want to give them some extra attention and keep them happy.
Contacts Screen
Here is where you can access all the contacts in your account. Contacts can be conveniently filtered by tags or list.
One nice feature is you can multi-select contacts and perform actions on them like adding them all to a list, or giving them a specific tag.
From here, you can also import and export contacts. For example, you could export your buyer lists and import them into your Facebook Ads account and create a custom audience. This is great for creating highly targeted ads.
If you are migrating from another email service provider, you can easily do this from the import screen. ActiveCampaign supports a number of 3rd party apps including Basecamp, Stripe, and Zapier.
Or you can import a straight CSV export file that you would get from a service like Aweber or GetResponse.
Drilling down into a specific contact allows you to see more info about them. Once you add a contact, ActiveCampaign will go out and pull additional info about them including their picture and social media profiles from various sources.
I personally like the contact's activity stream where you can easily see how they are interacting with your list. If you have site tracking enabled, you can even see every single page your contact has visited on your site.
ActiveCampaign Reporting
Once sending emails becomes an integral part of your business, the reports screen is where you will be spending a lot of time. It allows you to easily see what's working and not working with your email marketing.
In the overview report and you will see a graph of your daily open rates. What I found most useful to me are the summary stats. Here you can see your open rate, click rate, unsubscribes and bounces.
The Email clients report is also quite useful. You can see which email clients are the most popular and change your strategy accordingly.
For example, if the majority of your subscribers are using Gmail, then you might want to pay more attention to making sure your emails get into Gmail's primary tab.
If your subscribers are mostly using mobile mail clients then you better make sure to test that your emails look good on the small screen.
How to create automations
Automations allow you to create a workflow of actions that are triggered based on specific criteria.
If your goal is to build a passive, automated business then automations are really where it's at.
According to HubSpot, marketers who implement marketing automation increase their sales by an average of 10%.
Fortunately, ActiveCampaign as a marketing automation tool makes creating workflow automations simple.
When you create an automation, you are first asked how you want to trigger the automation:
As you can see, some of the more useful triggers include:
Clicking a link in an email
A page on your site is visited
When an event is recorded, like someone purchasing your product.
Whenever a tag is added
Once you've added a trigger, ActiveCampaign gives you a variety of actions you can perform. For example, you can:
Send an email or SMS
Add or remove a tag
Create a conditional if/then branch
Wait for x number of days
Building up your automation workflow is then just a matter of clicking and adding new Actions until you're done. You can even create more complex automations by composing them of other smaller automations. You can use the automation quick links to easily navigate between nested automations.
This ability to re-use automations across multiple lists is very powerful and will save you a lot of time if you use automations a lot.  You can also share automations which other people which is also super useful!
ActiveCampaign is also the only ESP I know that allows you to split test automations. This allows you to do things like split test the time of day each of your automated emails goes out.
6 Email Marketing Automation Ideas
So what kind of automations can you build?
Almost anything really. You are pretty much only limited by your own creativity.
A key to many automations is ActiveCampaign's site tracking feature which is just some javascript code that you need to put on your site.
This allows you to see which pages your subscribers are visiting and more importantly, provides a useful trigger for many of these automations.
To get your juices flowing, here are some 6 ideas for automations that you can implement using ActiveCampaign.
1. Product interest tagging
As your contacts visit specific product pages on your site, you can give them a tag. This allows you to better segment and send targeted offers.
2. Create a custom welcome sequence
Perhaps you have been implementing content upgrades on several pages of your site. Then the ideal thing to do is send a custom welcome sequence that revolves around the lead magnet your contact subscribed for.
With a service like MailChimp, you would have to create a new list for every lead magnet. In ActiveCampaign, each sequence would simply be its own automation and you can use tags to make sure a contact does not enter your welcome sequence more than once.
3. Perform periodic list cleanup
The key to email marketing is not to have the largest list. It's to have the most responsive list. Every 60 days (or whatever number you specify), this automation can check if a subscriber has opened any emails in your sequence.
If they haven't, it will send out a couple of emails to check their responsiveness. If a contact still does not reply, then remove them from your list.
Weeding out unresponsive subscribers is very important to ensure high deliverability of all your emails.
4. Cart abandonment automation
Let's say you are selling a product on your site.
If a contact visits your checkout page but does not buy your product within one hour, this automation can send them an email asking if they have any questions and remind them to complete their purchase.
This is called a cart abandonment workflow, and you can read our blog post on how you can implement this in ActiveCampaign.
5. Email retargeting
Have you noticed when you visit a particular website, that you will often start seeing ads for that website on other site's you visit? That's called ad retargeting.
You can do this a similar thing with emails.
Let's say you have a blog post on your site that talks about the benefits of list building. When a contact visits this page, an automation can be triggered to send them an email promoting Leadpages and how it is the perfect solution for building an email list.
6. Rank your best and worst leads
This automation idea comes courtesy of Justin Brooke, and it takes advantage of ActiveCampaign's lead scoring feature, which is available to Plus members.
Give 5 points to anyone who opens an email and 10 points if they click a link. Now create an automation that starts when anyone subscribes to one of your lists. After 30 days have a check to see what their lead score is and anyone with 50 or more points is tagged as a VIP.
ActiveCampaign Pricing
With all these features that the service provides, you might be wondering how much does ActiveCampaign cost?
Fortunately, it does have quite a reasonable pricing structure.
There are 4 tiers with ActiveCampaign – Lite, Plus, Professional, and Enterprise.
The main difference is that Pro includes CRM and Lead Scoring features. Professional adds Site Messaging, Attribution and support for 50 users.
However, the Lite plan still gives you all the core email autoresponder and marketing automation features.  And for most businesses, that's more than enough.
Just to try things out, you can get started using the Lite plan with 500 contacts for just $15/mo. And here is how things break down as your number of contacts scale up.
As you can see, this pricing structure compares very favorably to the competition.
Occasionally, ActiveCampaign will offer some special discounts if you are signed up for their email newsletter.  However, you can always get a discount by opting in to pay upfront yearly, to save quite a bit more.
As mentioned above, ActiveCampaign does not charge you for unsubscribed contacts, and a single contact on multiple lists is only counted as a single subscriber.
ActiveCampaign vs the Competition
When deciding on an email service provider to go with, you will have a lot of choices. So how does ActiveCampaign compare with some of the other popular autoresponders out there?
Based on my experience, very well actually.
With its marketing automation capabilities, it's hands down the most powerful email service provider I've tried.
Aweber, which is still a very popular email service provider for bloggers and marketers currently has very simplistic automation support.
ConvertKit has a really good automation editor, and in some ways is nicer to use than ActiveCampaign's.  However, one limiting thing I found with ConvertKit's automations is that it's missing some of the list cleanup actions I want to be able to perform.
Still, it's not a bad choice either. ConvertKit lets you do some cool things with its automations as well, and the learning curve is shorter compared to ActiveCampaign. Depending on your requirements, it may provide everything you need in a very polished package.
However, for pure power and flexibility, ActiveCampaign really shines. That's why Lindsay, from Pinch of Yum and Shane Melaugh of ActiveGrowth, have both made the switch over to ActiveCampaign.
And then there's the price. ActiveCampaign is actually one of the most affordable email service providers on the marketer. It's cheaper than Aweber and even cheaper than MailChimp at most levels.
You even get a free 14-day trial to give it a test run, without having to hand over your credit card.
How I'm using ActiveCampaign in my business
ActiveCampaign is one of my favorite marketing tools, and it's now an essential part of my affiliate marketing business.
So I wanted to share some of the ways I'm currently using it.
First, I am using it on this site to help me build my email list.  I'm using Thrive Leads to show the popups you see and the service directly integrates with ActiveCampaign to add subscribers directly on my list.
I'm also using the combination of Group Convert and Zapier to push my new Facebook Group members into Active Campaign.  This is something anybody running a Facebook group should do since you don't actually own your audience until you get them to sign up to your email list.
If you promote ClickFunnels as I do, ActiveCampaign is also essential.  It's required for CF Follow Up Pro to work, which allows me to get ClickFunnels affiliate notifications, automate the bonus delivery, and email followup for all my ClickFunnels referrals.
This means my affiliates tend to stay on longer than the typical ClickFunnels subscriber because I'm able to constantly provide additional value to my referrals.  Which is one of my secrets for winning the ClickFunnels Dream Car!
AC is also essential for how I promote Legendary Marketer.  Legendary gives you quite a bit of info about your affiliates including what day of their Business Builder Challenge that they've completed.
I can use this data with the goals feature to send targeted emails based on where they are in the Legendary Marketer value ladder.  Which helps me earn more recurring and high ticket commissions from them.
Final Thoughts
Overall, I think ActiveCampaign is one of the best investments you can make into your business. It really hits on all the capabilities you'd want as an active email marketer, and it does so at an affordable price point.
Spend some time mastering the power of their automations and you can really take your email marketing to the next level. It takes a little creativity, but you can pretty much implement any type of automation you can think of.
As an affiliate marketer, I've been able to leverage these capabilities to do some really cool things promoting products I love like ClickFunnels and Legendary Marketer.
So if this is something you would like to do as well, then take advantage of ActiveCampaign's free trial offer and give them a try. They are one of the best email services around, and you are going to like how they will help grow your company.
Take the 14-day Free ActiveCampaign Trial
ActiveCampaign Bonuses
Did my ActiveCampaign review get you interested in taking that free 14-day ActiveCampaign trial?
Why not get some extra help to start your ActiveCampaign journey with these exclusive ActiveCampaign bonuses.
Here is what you will get:
Bonus #1: Tier5 Mega Software Bundle – Get personal access to 6 amazing softwares – DomainLeads, Link Wizard, Invoicing You, Sticky Reviews, Magic Zap, and RoboContact.
Bonus #2: CF Follow Up Pro access – Automatically follow up with your ClickFunnels affiliates with these ActiveCampaign automations which will help you boost your stick rate and earn you more commissions. ($297 value)
Bonus #3: Ultimate List of Lifetime Recurring Affiliate Programs White Label Rights – List of over 130+ affiliate programs that offer lifetime recurring commissions ($297 value)
Bonus #4: Million Dollar Ad Swipe Library White Label Rights – Get the exact Facebook ads that 40 of the top internet entrepreneurs are running right now. ($197 value)
Bonus #5: Free Group Convert silver account – this is my favorite chrome extension to automatically collect the email addresses of members in your FB group. ($197 value)
Take a look at my ActiveCampaign bonus page for more details on the above bonuses and how to get them.
ActiveCampaign Pros
Extremely powerful visual automation editor.
Ability to split test everything inside your automations.
Great segmenting options.
Trigger actions based on replies.
Easy to share automations & automation marketplace.
Handles advanced automations like live events/webinars well.
Lite plan is quite powerful, yet affordable.
ActiveCampaign Cons
Packed with features which makes for a large learning curve.
UI can be a little confusing in places.
List-based ESP. Need to create a list to send a broadcast email.
Lead scoring and new features like attributions and site messages are being added to Plus plans and above.