Are you looking to add some high ticket affiliate commissions in your pocket?
Then I would recommend taking a closer look at Legendary Marketer.
It's an online training membership that shows people how to build a profitable online business through these 4 high ticket business models:
Affiliate marketing
Digital info products
Events and masterminds
Coaching and consulting
What's exciting about Legendary is that it provides its members with awesome, high value content. Which makes it infinitely easier to promote its amazing affiliate program.
Also unique to Legendary is that you have their in-house business advisors helping you make high ticket sales with your leads, without any extra effort on your part.
This means that if you sign up someone for the $7 Business Challenge to someone you could easily earn $1000+ affiliate commissions if they purchase the Business Blueprint product or tickets to one of the live events anytime in the future.
That's because your paying referrals are locked to you for life.
I don't know of any other affiliate programs out there that have this strong of a value ladder that can really make you a lot of money.
I go into more detail of the various Legendary products themselves in my Legendary Marketer review. But in this article I wanted to share more details about the affiliate program itself and why I think you should jump aboard right away.
Here's what I'm going to be covering:
---
How do you join the Legendary Affiliate program?
Unlike, most affiliate programs, not everyone can join the Legendary Marketer affiliate program.
Everyone who wants to join has to go though an affiliate application process. And not everyone will get accepted.
Currently, you can only apply after completing day 5 of the 15 Day Business Challenge. Unless you purchase the Business Blueprint upsell, in which case you'd be accepted immediately without having to apply.
I really like this approach because it makes sure that everyone who is promoting the program is familiar with the Legendary mission and philosophy. And they've at least gone through their core product and knows how it works.
How does the Legendary Affiliate program work?
One important thing to note is that Legendary has 2 different levels for their affiliate program.
There's the free Basic tier where you can earn lower commissions and a paid Pro tier where you can earn the max.
To be a Pro affiliate you will need to pay $29.95 a month, which will let you earn 40% commissions for most products. The exception being Marketer's Club where you would earn 60% recurring commissions ($18.80 per month).
If you stick to the free tier you will earn 10% commissions for everything, except for Marketer's Club which will pay you 30% recurring.
Although it's not standard to pay for most affiliate programs, I do recommend becoming a Pro affiliate if you're making any commissions at all with Legendary. Missing out on a $1,000+ commission because you were too cheap to pay $29.95 a month seems a bit shortsighted, imo.
A look inside the Legendary Affiliate program
Once you're accepted, the affiliates tab in your back office is available to you.
The first thing I would do here is to go through the excellent affiliate training. There's a lot of great content inside that you won't want to miss.
Much of the affiliate training ClickFunnels centric, since Legendary's funnels are built using ClickFunnels.
However, don't miss the Compliance training and the "Why you MUST tell your Story" training under Email automation.  Those are really important.
You can pick and choose what other lessons to watch based on your current skill level and interest.
Also, if you are a Pro affiliate, make sure to watch the Top Earning Trainings as well which features videos from some of the top Legendary Marketer affiliates themselves.
Funnels and Custom Funnels
Inside the Affiliates area you will also see the built in Legendary Funnels. At the time of this article, there is only the Business Challenge funnel currently available.
There used to be Funnels for Marketer's Club and the Legendary book, but they are being "reworked" at the moment and are not available from the back office.
Here you can get your affiliate links for any of the pages in the funnel. And you can even integrate with your email service provider if you use Aweber, GetResponse or SendLane.
Legendary also includes 4 different custom funnels. These are share funnels created in ClickFunnels that you can directly import into your ClickFunnels account.
Next to each funnel are instructions for modifying the funnel with your affiliate link and other details that you need to get that funnel up and running for you.
Leads and Members Report
You'll also find that Legendary has some of the best reporting I've seen from any affiliate program. You can get a report of all your Leads, which are people who put in their name and email into the Business Challenge funnel, but did NOT complete their purchase.
Then there's the members report where which shows all the paid referrals you have under you. Here you'll see what funnel they came under you (just the Challenge for now) along with their phone number and how far in the challenge they've completed.
Both the leads and members reports can be downloaded to your computer. But I also use them as part of my LM Affiliate Extractor extension which takes the data from these 2 reports and allows you to integrate with Zapier and your favorite autoresponder to enable some really useful automations.
Rank and Leaderboard
Legendary has some cool gamification features as well. The Leaderboard is where you can see who the top affiliate reports are over different time periods (Today, Last 7 Days, Last 30 Days, All Time). This lets you see how you stack up next to the top Legendary affiliates.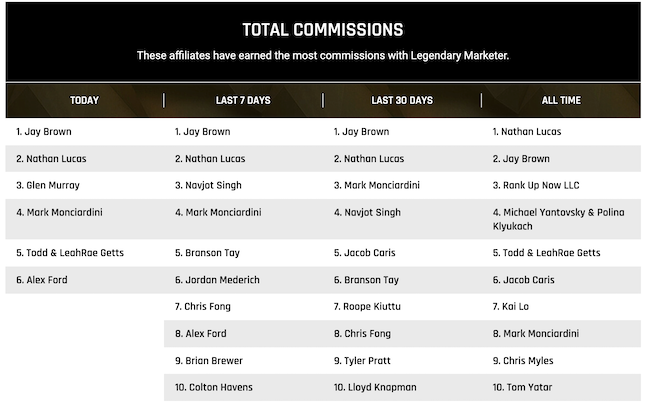 Ranks are Legendary's Badge system. So depending on how many total commissions you've made, you'll get different badges. So since I've made $4k in commissions I qualify for the Silver Badge.
There are 7 people so far who have gotten the Platinum badge which are those affiliates who have made $100k+ in commissions.  This exclusive club includes Jacob Caris who I'm actually signed up under for Legendary.
And check out the cool ring he got for hitting Platinum!
The highest level though is Diamond for people who have earned $1 million in Legendary commissions. Nathan Lucas is the one person who's qualified for this level so far.
But this shows you the huge potential that Legendary has.
How do you promote the Legendary affiliate program?
In the old days, Legendary Marketer was pay to play. That meant that you had to buy a Legendary product before you could promote it.
This is not the case anymore. Once you're accepted into the program you can promote any of their products.
However even though it's not a requirement anymore I still highly recommend purchasing any products you seriously are going to promote.
Because how can you really recommend a product to others if you haven't used it yourself?
By going through the different products on your own you will be able to share with your audience what you like and what you didn't like. You'll also be able to deliver insights that you've gained, that can help people make a buying decision and sign up through your affiliate link.
This is especially important with the Blueprint Bundle that's presented as an upsell during challenge.
At $2500 this is pretty hefty investment for most people. But if you purchase the bundle yourself and can tell your own story how the bundle helped your business then you will only help you make more sales of this lucrative upsell.
And keep in mind you will get your $2500 back if you can sell 10 of these bundles in 2 years through Legendary's tuition reimbursement program.
10 ideas to promote Legendary Marketer
Ready to take sign up and make some money with Legendary? Here are 10 ideas to help you get started with promoting it.
1. Share your journey through the challenge – you will want to demonstrate why people should spend $7 on the challenge. The best way to do that is to share your experiences when going through the challenge yourself.
What insights did you get from it. How were the coaching calls? The more personal your story, the easier it is to sell the Challenge to others.
2. Do a Traffic Rolodex case study – the Traffic Rolodex is Legendary's course on different paid traffic sources like AdWords, Facebook Ads, Native Ads and more. Go through one or two of the modules that interest you and see if you can start getting results with it. If you can, getting your members to do the same becomes that much easier.
3. Create an affiliate case study group – one of the best ways to share your journey with Legendary is to document your progress in a Facebook Group. I did exactly that myself which helped me earn my first $4k in Legendary marketer commissions.
4. Promote using Google/Bing paid ads – this has probably fallen out of favor a bit since Legendary announced they are no longer allowing bidding on their trademark words. However there are tons of non branded keywords you can use to promote Legendary and the competition is pretty low.
5. Do videos inside your Facebook group – one of your most receptive audiences is inside your FB group. Share with them the amazing opportunity that a Legendary is and why they should start the challenge themselves by sharing your story with it on a FB Live.
6. Write a comparison post vs Wealthy Affiliate – one thing I noticed when searching for Legendary marketer reviews is that there are a lot of Wealthy Affiliate affiliates talking bad about Legendary in blog posts. A lot of this was based on old info that is no longer true about Legendary.
So why not write your own comparison posts about the two companies with a more up to date look at both. Both have their pros and cons and you can even earn commissions from both.
7. Create a YouTube channel around the content – a lot of the top Legendary affiliates have leveraged YouTube to get their top spots on the Leaderboard. There are so many video topics you can do on Legendary with all of its different products and ways to promote it. So you'll never run out of content ideas.
8. Promote it as a value add to ClickFunnels – Legendary Marketer has a lot of synergies with ClickFunnels. Their funnels are built using ClickFunnels and you can put your ClickFunnels affiliate link inside your Legendary back office and earn CF commissions that way.
Even going through the 15 Day Challenge you can see that Dave Sharpe teaches a lot of the same principles and strategies that Russell Brunson teaches. So if you are promoting ClickFunnels like I am, being able to offer a complementary training like Legendary is very natural and easy to do.
9. Add it to your list of recommended products page – Once you have been in the online marketing space for awhile, you'll have built up a list of your favorite tools and trainings that you know well and love. If you're getting value from Legendary Marketer, then don't forget to add it to this list. As you increase the awareness in your brand, then you'll get more and more people following your recommendations.
10. Talk about it in your emails – With all the different products and lessons you will be learning in Legendary Marketer, you will be able to come up with an unlimited number of stories that you can use in your email marketing to promote Legendary.
The business challenge is the perfect type of offer to promote because the action takers on your list will gobble it up. And you will be able to get very high conversions if you adopt this approach.
Final Thoughts
Legendary Marketer presents an awesome opportunity for any affiliate marketer. First the products that make up Legendary Marketer are actually good and worth your time to go through. Which means you are going to want to take what you learn from Legendary and start implementing it into your own business.
Combine that with a beautifully designed value ladder filled with low ticket, medium ticket and high ticket products, and you have the perfect recipe to generate some great affiliate commissions.
Ready to start? I'm offering anyone who signs up for the Online Challenge access to my secret Facebook group where our amazing community will help you learn how to promote Legendary more effectively.